About Deane
Helen Deane Dozier has been photographing and writing about Virginia and Virginians since 1970, painting canvases with light, color and words to depict nature, animals, and people.  Her photography decorates walls of homes and offices, and the virtual walls of the World Wide Web. Her comprehensive outdoor guidebooks help natives and visitors find their way around the mountains, the Piedmont and the Chesapeake Bay.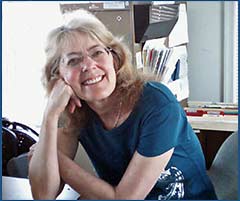 Deane's photography is on display and available for purchase at C'ville Arts on the Charlottesville (Virginia) downtown mall, at Wintergreen Resort's Mountain Village in Nelson County, and at Rowe's Restaurant on U. S. 250 at I-81 at Staunton, Virginia. If you see a photo that you would like for your home or office on this website, or if you'd like her to design a website or even an online slideshow for and about you, contact her. The best way to get a quick response is by sending an email to: .
Deane lives in the Blue Ridge on the southern end of Shenandoah National Park, near Waynesboro, Virginia, with park deer and bear as her closest neighbors.